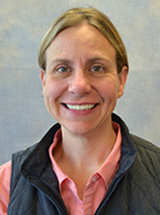 Catherine Nunnery, DVM, DACVO
Dr. Nunnery was raised in Bowie, Maryland and started riding hunt seat as a young teen. She received a Bachelor of Science degree in Equine Studies from Centenary College in Hackettstown, NJ. Dr. Nunnery found her passion for veterinary medicine while managing both Ri-Arm Farm in Franklin Lakes, NJ and Centenary College Equestrian Facility in Long Valley, NJ after college. She completed post-baccalaureate work at the University of Maryland, College Park and was awarded her Doctor of Veterinary Medicine degree by Virginia-Maryland Regional College of Veterinary Medicine in Blacksburg, VA.
After graduation, Dr. Nunnery completed a surgery and medicine internship at Rood & Riddle Equine Hospital in Lexington, KY. During her internship Dr. Nunnery was dedicated to learning more about the eye and spent free time with Dr. Claire Latimer one of the only solely equine ophthalmologists. Directly after her internship Dr. Nunnery completed a three year residency in comparative ophthalmology at the University of Florida College of Veterinary Medicine in Gainesville, FL. During her residency she was trained, mentored and complete research with Dr. Dennis Brooks the world renowned equine ophthalmologist. She was honored with the "Jules & Lucy Silver Animal Bedside Manner Award" given by the University of Florida College of Veterinary Medicine, Class of 2009. Dr. Nunnery was board certified and became a Diplomate of the American College of Veterinary Ophthalmology in 2010.
In 2011 she return home and started Equine Veterinary Vision, Inc. to serve the equine community in the DC area, while practicing ophthalmology at Veterinary Referral Associates in Gaithersburg, MD. Dr. Nunnery was the head of Large Animal Ophthalmology at the University of Pennsylvania's New Bolton Center from 2014-2017. She now is one of a few board certified veterinary ophthalmologist that solely practices equine and the only one in the Mid-Atlantic region. Dr. Nunnery lectures to veterinarians, veterinary students and equine enthusiasts, locally, nationally and internationally on large variety of equine ocular conditions.